About International Squash Academy – Avon Old Farms School, Avon, CT
Attend a Connecticut squash camp at Gaynor Squash Pavilion at Avon Old Farms School, CT. Opened in 2007, the facility boasts six world-class international singles squash courts, and one three-wall glass exhibition court. Located just outside of Hartford, CT, this is the perfect site for an International Squash Camp.
CAMP TUITION | July 24 – 29, 2022
Overnight Camp: $2,150
Day Camp (9am – 4pm): $1,450
CHECK IN
Overnight Campers: 2:30-3:30 pm on the first day.
Day Campers: 3-3:30pm on the first day; 9am the rest of the week.
CHECK OUT
Overnight Campers: 12pm on the last day of camp (Friday)
Day Campers: Daily at 4pm; 12pm on the last day of camp (Friday)
AGE & ABILITY
Camp is open to players ages 10 to 18
MEALS PROVIDED
Overnight Campers: Breakfast, Lunch & Dinner
Day Campers: Lunch only
EVENING ACTIVITIES
After dinner campers enjoy social activities such as:
Movie night
ice cream socials
exhibition matches
recreational sports
workshops on recruiting, fitness & leadership
CAMP DIRECTORS & STAFF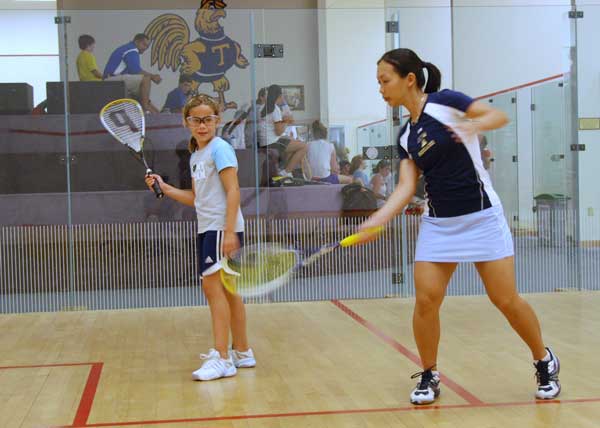 SQUASH CAMP REVIEWS
"My son attended the International Squash Academy camp this summer and loved it. The coaches really take the time to focus on each individual player's strength and weaknesses. His skills have improved tremendously. He had a lot of fun and made a ton of new friends as well. This is definitely a camp that he will be attending again, and highly recommended to friends."
— TOM C., Parent
"Squash is an incredibly competitive sport and these campers were able to be competitive and have fun at the same time which is great and exactly what we look for at camp! We want them to grow as players but also make friends in the process. All of the kids who attended camp have improved their skills immensely. It makes our jobs as coaches a lot easier when the kids are intrigued and willing to learn! It was a great and successful summer of camp!"
— Former Coach
"This camp was definitely one of my favorite parts of the summer. I really enjoyed my time there and I met a lot of new friends. Although I wasn't the strongest squash player, the right coaching and one-on-one time greatly improved my squash skills by the end of the camp. I now feel more comfortable playing in tournaments, and am a more confident as a player. Thank you for the awesome coaching!"
— NICK T., Camper
"We really appreciated the individual attention the coaches gave to our two kids. They really took the time to go over what our daughter needs to work on to improve her game. Our son asked if he could bring his racquet on our family vacation."
— MAXINE M., Mom
"Thanks so much for a great week of squash. The staff worked incredibly hard with Lisa and she can't wait to get back on the court. She is really looking forward to returning next summer."
— JAMES P., Parent